Nissan Business Certified Dealer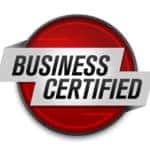 Why Choose A Nissan Business Certified Dealer?
As your dedicated commercial vehicle dealer in College Station, TX, we're sincerely invested in our clients' success. We understand what local small businesses need to flourish and thrive, to run efficiently, to exceed expectations at every turn. When you work with a Nissan Business Certified dealership like Douglass Nissan, you're guaranteed a level of devotion and commitment that's rarely seen in the industry. This is what makes us uniquely qualified to be the area's most trusted commercial truck dealer.
What's more, our clients can also take advantage of the numerous benefits available through the Nissan Business Certified Program. From commercial vehicle incentive packages to priority auto service, these benefits ensure business owners receive more bang for their buck. Read all about the perks of financing or leasing a commercial Nissan vehicle below, or simply contact Douglass Nissan at (800) 633-8135 for more details.
---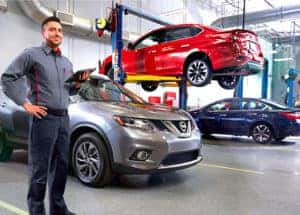 Next Bay Priority Service Guarantee
Avoid the lines with Nissan's Next Bay Priority Service. When you need to get your commercial trucks or utility vans repaired or serviced, you'll always jump ahead in the queue. For more information about choosing the best Nissan service plan for your company, speak with your Commercial Vehicle Account Manager at Douglass Nissan.
---
24/7 Roadside Assistance
Breakdowns can occur anywhere and at any time; but that doesn't mean you have to roll with the punches. As a valued client of our Nissan commercial dealership, you're protected with Nissan's 24/7/365 Commercial Vehicle Roadside Assistance program. In the event of an emergency, no matter the place or time, you can request help from a professional. Benefits of this program include tire changes, battery jumps, fuel delivery, lockout service, trip interruption with reimbursement, and emergency towing to a Nissan Business Certified service center near you.
---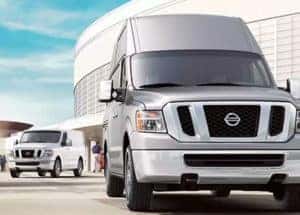 Commercial Nissan Incentive Program
Let's help you stand out in a crowd, shall we? When you lease or finance a Nissan commercial vehicle from Douglass Nissan, you can choose from one of the following exclusive incentive packages:
Up to $1000 Upfit Allowance
Get custom-designed commercial vehicle upfitting, installed directly on your specific Nissan utility van or work truck.
Free 5-Year/100-000-Mile Service
Ensure your commercial vehicle is always ready to go with complimentary oil changes, tire rotations, multi-point inspections, and auto maintenance.
Cargo Management Solutions
Keep the workflow flowing by installing free or low-cost Nissan van shelves, ramps, slide-outs, partitions, bins, and other cargo management solutions.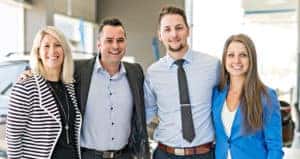 Speak With Our Nissan Commercial Sales Team
Put your company on the map. Gain ground on the competition. Corner the market. When you work with our College Station, TX commercial vehicle dealership, you can bank on Nissan to help deliver the goods. Contact a CVAM from Douglass Nissan today to discuss your options, request a test drive, or start an application for a commercial auto loan.
1001 Earl Rudder FWY. S College Station, TX 77845
---
Four Ways To Finance A Nissan Commercial Vehicle
Controlling your business's purse strings is easy when you finance or lease a Nissan commercial van or work truck. Depending on your needs and budget, we can customize a payment option that won't cost a pretty penny or any of your arms or legs.
Most businesses find immense value in one of these financing and leasing options:
Nissan Commercial Financing
Build asset equity by financing your commercial Nissan vans, trucks, or sedans.
Depreciation is potentially tax deductible.
No mileage restrictions.
No fees for wear and tear.
Nissan Commercial Signature Lease
A close-ended lease, usually with 2- or 3-year terms.
Monthly lease payments are deductible as operating expenses.
Drive up to 15,000 miles per year.
Always have vehicles covered by a warranty, potentially reducing your total cost of ownership.
Nissan Commercial TRAC Lease
An open-ended lease with options to purchase, finance, or return for disposition.
No mileage restrictions.
No fees for wear and tear.
Flexible monthly payments to meet your budgetary needs.
NMAC Line of Credit
Credit lines tailored to growing businesses.
Negotiable down payments.
Competitive market rates.
Pre-approved annual credit limits.
Contact your Douglass Nissan Commercial Vehicle Account Manager to submit an application for an NMAC line or credit or receive additional information about TRAC, Signature Leases, or commercial vehicle financing.
---
Additional Client Perks at Douglass Nissan
We're proud to offer one of the area's best selections of commercial work trucks and specialty passenger vans, such as the TITAN XD and NV Passenger. However, our additional dealer-exclusive benefits are what separate us from other commercial dealerships in College Station, TX. Douglass Nissan clients are able to take full advantage of the following:
Dedicated Commercial Vehicle Account Managers
Free shuttle service
Nissan College Grad Specials and Military Cash Rebates
Special College Station, TX Nissan pricing, lease terms, and finance interest rates
Demo Nissan trucks and vans
Commercial loaner vehicles (if available)
---
America's Best Commercial Vehicle Warranty
When you buy a work truck or cargo van at our Nissan commercial dealership in College Station, TX, you instantly become part of the "5 Years/100,000 Miles club." Unlike the standard 3-year coverage that comes with other commercial vehicles, Nissan trucks and vans purchased or leased at a Business Certified dealer are backed by an astonishing 5-year/100,000-mile, bumper-to-bumper warranty. This coverage applied to all TITAN, Frontier, and TITAN XD trucks, as well as NV vans.